A 'Familiar' Short Film to Screen at Fantasia International Film Festival 2012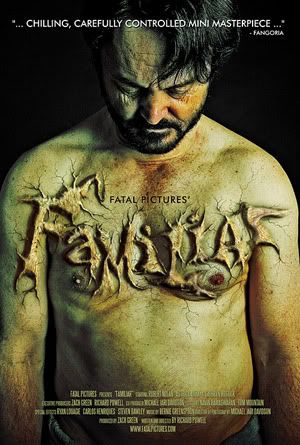 By Seth Metoyer, MoreHorror.com
The creepy little twisted short film FAMILIAR (review) will screen at this years Fantasia International Film Festival 2012.
Familiar was written and directed by Richard Powell (interview here), produced by Zach Green with cinematography and co-produced by Michael Jari Davidson with special F/X provided by Ryan Louagie, Carlos Henriques and Steven Dawley (The Butcher Shop).
Check out the official trailer for "Familiar" below.
For more details about the film, check out the official Fatal Pictures website and IMDB page.
From the Official Press Release
Fatal Pictures is proud to announce Familiar, a new horror short starring Robert Nolan, Astrida Auza and Cathryn Hostick as the seemingly idyllic yet ultimately doomed Dodd Family, has been included in the Fantasia Film Festival 2012 lineup.
Synopsis
Familiar is the story of a series of tragic events leading a middle-aged man to grow to suspect the negative impulses plaguing his mind may not be his own.
Teaser Trailer: