'Alyce' - Movie Review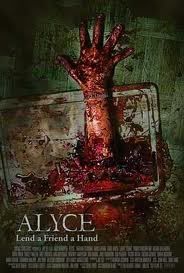 by Michael Sieber, MoreHorror.com
Alyce and her best friend Carroll go out for a night of fun when Carroll finds out that her boyfriend is cheating on her. Devastated, the girls begin drinking heavily when Carroll decides she needs something stronger to help ease her pain so they go to a drug dealer that Carroll frequents to score some ecstasy. Once back at Alyce's building, the girls head up to the roof, where Alyce (trying to scare Carroll) ends up pushing off.
Riddled with guilt, and plagued by haunting visions of Carroll, Alyce goes back to the dealer to get something to help her cope. As her life comes crashing down around her, Alyce goes deeper into the dark world of drugs, sex and eventually murder as she loses her grip on reality.
At first I thought that this film was going to be a typical ghost story, but about halfway through, it veers totally off course and becomes a very dark character study of a somewhat backwards girl, who may not have been psychologically sound to begin with, who slowly sinks into depraved madness.
Although the film starts out very slowly, with the first twenty minutes or so focusing on the girls' silly banter as they hang out, the movie gains steam after Carroll's death and boils over in the extremely bloody and violent final act.
Low budget films such as this are usually infamous for the lack of talent, but this is where Alyce stands apart from the crowd. While the supporting cast is fairly forgettable, the main characters really brought their A game for this movie. Jade Dornfeld is wonderfully off kilter in her portrayal of Alyce, and Eddie Rouse as the slimy drug dealer turns in a performance that's worth the price of the DVD in my opinion.
Jay Lee, who wrote and directed the film, places Alyce in a slimy, dark world that transfers extremely well to the screen thanks to his use of washed out colors and minimalistic set design. While the script is fairly bare bones, Lee manages to pull off a very creepy and atmospheric film with an ending that's worth waiting for.
If there is one flaw it would be that the first half meanders just a bit too long. There's a scene in which the girls are driving around town talking about how they're going nowhere, and I admit, that's how I felt about the movie up to that point. But if you ride with Alyce until the end, I think you're going to like where you end up.
Recommended.