'Ashes' Movie Review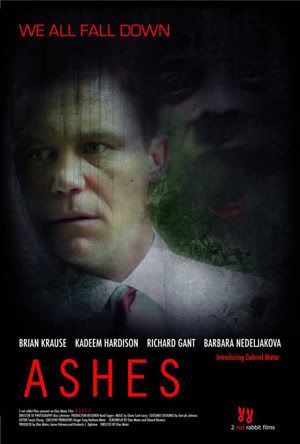 by Shannon Hilson, MoreHorror.com
It's something we're all afraid of – getting grotesquely ill thanks to some disease that's so mysterious and deadly, no one knows what it is and no one can cure you. Maybe for extra fun, we're also super-contagious and give it to all our friends and family before we buy the farm. Hey, perhaps it doesn't even stop there! Maybe after we die, we come back to life for the sole purpose of continuing to spread our nasty disease to yet more people. It is this kind of fear that director Elias Matar is working with in his bio-horror film Ashes, brought to you by Osiris Entertainment.
Ashes follows the story of a genius doctor by the name of Andrew Stanton played by Brian Krause of Sleepwalker and TV's Charmed. By genius, I don't just mean he's really, really good at performing garden variety surgeries or setting broken bones. Dr. Stanton is actually working on a cure for AIDS and with the help of his assistant Matthew (Kadeem Hardison of White Men Can't Jump and Made of Horror) he's finally reached the threshold of a major breakthrough, a treatment that helps boost the immune system to degrees high enough to ward off even AIDS.
It's at that point in the plot that we meet Jesus, a young boy we last saw in the film's opening scene getting stung by a jellyfish. It doesn't take long to see that since being stung, Jesus hasn't been doing so well. He's really sick with an unknown disease and to add insult to injury, his family apparently abandoned him at the front door to the hospital before taking off.
Naturally, Dr. Stanton comes to the rescue with his new potentially miraculous (although unapproved) immune boosting treatment hoping it will help Jesus's system rally well enough to fight off whatever's making him sick. That's when for reasons we don't yet understand, Jesus goes and bites a chunk out of Dr. Stanton's arm.
This is pretty much the point in the plot where we horror fans just know something bad is going to start happening next and we spend the rest of the movie finding out exactly what. As expected, things quickly careen downhill, not just for Jesus, but for Dr. Stanton, his family, and anyone else who's unlucky enough to run into them.
I have to say that Ashes was a little slow to start for my usual tastes. I felt like I was watching for a while before the action really started happening or before anything about it really grabbed my interest and held on tightly. However, once it picks up pace, it moves right along and keeps you guessing and wondering just as any good horror movie should.
I also felt appropriately curious about the disease that was plaguing the movie's characters, as well as completely disgusted at the idea of anything like this working its way into my own system, which means that this didn't completely fail as a bio-horror flick. They even managed to throw a surprise or two in there as well, which I appreciated because movies like this can get far too predictable after you've seen a lot of them.
However, I felt that the real standout point with this film wasn't the plot or the writing. It was the acting. I expected Ashes to be mediocre to fair in that department, but I really thought Brian Krause knocked it out of the park as Dr. Stanton. The make-up and effects were quite good as well and not just in regards to the really pukey-looking gore stuff. The "subtly sick" make-up on new disease victims was as well-done as the "walking dead" effects on those who had been sick for a good long while. Touches like that really help make a movie for me and draw me into its world, so they were certainly noticed and appreciated by this reviewer.
Overall, this is really a pretty decent film, even when compared to the majority of the bio-horror movies I've seen in the past. Would I buy it or anything? No. Will it win any Oscars next year? Well… no. However, it will probably entertain you well enough if you're looking for something scary to watch over popcorn on a Friday night – especially if you were ever a Charmed fan like I was and would like to see Brian Krause in something else. I'm not sorry I watched this and I was delighted to see both Krause and Kadeem Hardison again. If you're interested, you can check it out for yourself when the DVD hits the streets on February 7, 2012!