'Removal' - Film Review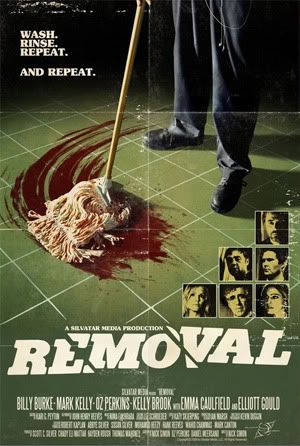 by Shannon Hilson, MoreHorror.com
I don't know about you, but I'm a real fan of horror movies that don't rely solely on gore, over-the-top killing scenes, and abrupt startles to scare the audience. Not to say that those things aren't all fine and dandy, of course, but as someone who considers herself to be a thinking person, I really like a psychological element to my horror films and a mystery for my mind to chew on as part of the enjoyment. Removal is all about providing this type of experience for the viewer and I have to say that I'm impressed with the way it was handled.
The film follows the experiences of Cole (Mark Kelly of Dead and Breakfast and TV's Mad Men), a professional carpet cleaner who's in the middle of a really rough time in his life. This is understandable, of course. After being a witness to the grisly suicide of his friend Kershe (Billy Burke of Twilight and Red Riding Hood) and never quite getting over it, things just aren't quite the same for him. However, things are about to get even weirder for poor Cole. A wealthy client (Oz Perkins of Legally Blonde) has an all-night cleaning job for Cole to do and it's not going to go very smoothly for him.
Removal isn't a film I'd heard anything about prior to getting a chance to watch it for review. I was familiar with Burke, Perkins, and Kelly from some of their other work, so I figured I'd enjoy seeing them here. However, I don't know that I was prepared for a viewing experience that was a riveting as this one was.
Despite this film being more of a psychological thriller, it doesn't start with the slow burn you'd expect. You're sucked into the plot and made curious about the characters right from scene one… and it only gets better from there. The dialogue in this is fantastic and the plot twists are expertly crafted, striking a perfect balance between familiar suspense-building techniques and unique approaches. You think you see where this film is going with the big reveal, but you don't… at least not completely. I was kept guessing pretty much until the end, which I appreciated.
This film is also very well acted. The promotional campaign seems to be trying to capitalize on Mr. Burke being in such recent blockbusters as Twilight by giving him top billing. However, while Burke was undoubtedly terrific as Kershe, Mark Kelly is the real lead of this film as Cole. Actually, I'm truly sorry his part in this wasn't talked up with more enthusiasm, because I thought he was just amazing. Oz Perkins's chilling performance as wealthy Henry Sharpe was also a real bright spot here. Emma Caulfield (TV's Buffy the Vampire Slayer) and Kelly Brook (Piranha 3D) turn in super performances in supporting roles as well, rounding out a very well-chosen cast that really brings this film to life.
I actually feel comfortable comparing Removal to movies that adopt a similar approach to plot and character-building such as The Machinist, Fight Club, and Hitchcock's Dial M for Murder. Really, if you liked those, you should definitely give this one a try, because it's cut from the same cloth. I think it's a crying shame that this isn't a film that was talked about more, because you know what? This is one of the only films I've screened this year that I'd likely purchase on DVD (if I didn't already have a copy, that is). You can check it out yourself when it hits shelves on January 3rd and I highly recommend that you do so.