'Familiar' (Richard Powell 2011) - Short Film Review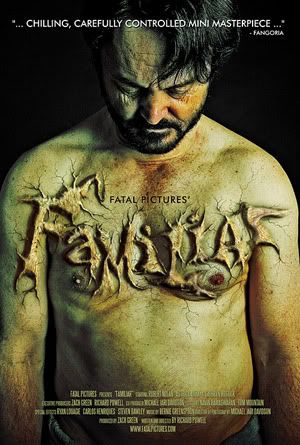 by Jason Lees, MoreHorror.com
What can you really accomplish in 24 minutes? Really, there's not much. You can make some breakfast, maybe, or possibly get started on some errands, but you're not going to get much done. And you're not going to wind up ahead when the time's up. But if you decide to put in Richard Powell's Familiar you're going to accomplish one thing for sure. You're going to get creeped the hell out.
Familiar is the latest short from Fatal Pictures written and directed by Powell. In it, we follow Robert Nolan as John Dodd as he goes about his very mundane life. We get to see inside his world via an almost melodic voice over that is warm enough to be inviting but also acerbic enough to keep us on edge. We see Dodd as he eats with his family, and watch as he expects their every move. It's not a life all that different than any of ours, at least not until his wife gives him news that pretty much ruins his plans for a happily ever after. The news is too much for our mild mannered main attraction, and Dodd does what he feels he has to. That's when Familiar realizes that you have it all figured out. You know where it's going, and you get a bit complacent as the jaded viewer who's seen it all.
Then Familiar flips you the finger and kicks your teeth in.
It veers clear of what you think you're about to see and smacks you in the forehead with what it wants to show you. That's a rare treat in feature length flicks to be in the hands of a director with the ability to guide you like this, but in shorter films, it's almost impossible to pull off and still maintain a sense of character arch. Familiar makes it look easy, deceptively so. Saying any more does the film a disservice.
You get the sense watching this film that the filmmakers are being utterly honest in showcasing feelings that many middle aged men go through, and just as you're getting what you think is a glimpse into their inner psyche, Familiar takes that beautiful hard left and left me with the most delicious feeling of "WTF" that I've had in months.
This, like the previous Fatal Pictures productions, is beautifully shot and put together. It's the kind of presentation you'd expect from a feature but in no way is this just a truncated bit of entertainment. Familiar is complete and whole in its short running time, and succeeds in giving you some truly stand out gore. Not gratuitous, Familiar demonstrates self control, even when the blood really flows and the twists go full tilt.
Familiar plays like American Beauty if it were directed by David Cronenberg circa 1990. It's intense, personal, and beautifully crafted. It's also loose, distant, and oh so ugly. Familiar stands out as a complete experience, and one that you're not going to easily walk away from.