'Killer Movie' - Review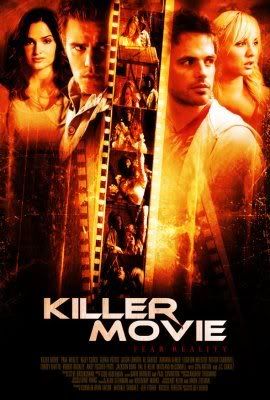 by Jamie Zaccharia, MoreHorror.com
Killer Movie is about a TV crew and a spoiled Lohan-type celebrity who travel to a small middle-of-nowhere Northwestern town and have to outlive a serial killer while simultaneously try to film something worthwhile. It wasn't so much a horror movie as a mystery movie, or a satire to be more precise. While it was a fun watch, I was never scared and it wasn't until halfway through the movie when I actually started wondering who the killer might be. Although I did like the mockumentary style of the film, and I think in that respect it brought something new to the table.
There are a lot of characters, which can be confusing if you're not paying attention. For the most part, I think the film was cast very well, with the exception of Kaley Cuoco as Blanca Champion, the stuck-up celebrity. I didn't hate her in the part, but she doesn't scream "super-hott-and-envied-tabloid- queen" to me, although as the movie went on I became more and more convinced. It was fun to see all of the now-famous actors who weren't as well known when it was made. Although Leighton Meester was advertised as starring, she only had a bit part. Paul Wesley was likeable as Jake Tanner, the show's director. Cyia Batten was really funny as Lee, the show's producer. Torrey DeVitto finally plays a character that isn't a major bitch.
Killer Movie was a pretty original take on the serial killer genre and definitely worth a watch if you're into slashers and/or satires.