'The Perfect Witness' Movie Review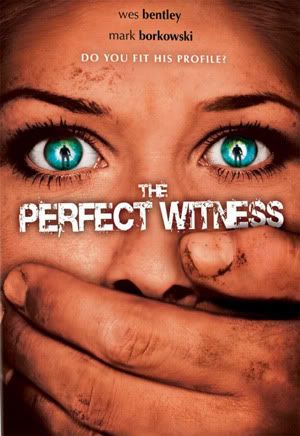 by Marcey Papandrea, MoreHorror.com
Have you ever come across a film with acting so bad that it makes it difficult for you to keep watching the film? Acting that is so bad, it is soul destroying? Well, that experience is what I had while watching The Perfect Witness, thanks to one Wes Bentley. What happened to him? His career started off solid with American Beauty, and he was great in that. But slowly and surely he seems to have declined in his abilities. I thought he was all right on P2, but anything else he seems rather unbearable. But The Perfect Witness takes the cake on his awfulness! I had trouble watching this film because his performance was so incredibly bad. What happened? Let's try and figure it out …
The Perfect Witness tells the story of Mickey (Bentley) who is an amateur filmmaker (he probably would have been happier perusing that career in porn) and thinks he has found his big break as he tracks down a serial killer James (Mark Borowski). He films him and then meets him but James being the sick man he is starts to play sick and twisted games with Mickey.
Now on paper that doesn't sound too bad, and quite honestly it isn't. The premise a strong one, and it isn't the usual we see with low budget serial killer fairs. But the script is poorly written, the dialogue borderlines on being a joke. I am not sure whether it was director Thomas Dunn who wrote Mickey's awful lines or star Mark Borkowski (who co-wrote the film) but it really brings the film down. It doesn't help that Bentley delivers his lines without any credibility and when he is forced to show emotion it is laughable. There is no believability here what so ever; in fact I would be willing to state that Tommy Wiseau is more convincing. It is a real shame because there is so much potential, but the character of Mickey was always destined to fail.
What does work is Mark Borkowski, the great lines and delivery come from him. He really is a chilling character as James, a man you certainly wouldn't want to come across. The dynamic between James and Mickey should be a good one but there is zero chemistry between the men. The contrast between good and bad performance really ruins it, but at least Mark tries to keep some kind of balance. The film is actually really nicely shot, keeping a voyeuristic feel that adds to the chill factor. As I mentioned the premise is intriguing and honestly it should have been far better executed.
Wes Bentley isn't the only poor actor here, everyone else around seems to be struggling with what they are doing. The victims come off so poorly; I am wondering what sort of direction they were given to act the way that they did. At the end of the day this is certainly not a perfect film, it isn't a really bad one, it just remains there. It isn't easy to sit through but it might be worth your time for a different look at the sub-genre.