'Santa's Slay' Movie Review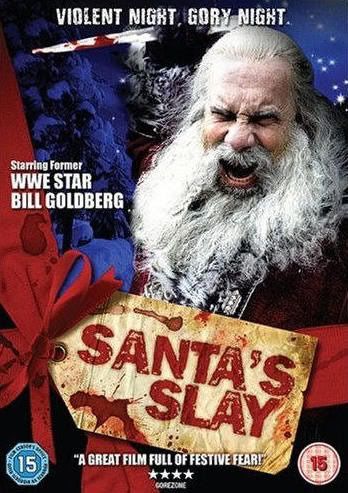 by Chris Wright, MoreHorror.com
Oh what fun it is to ride in a deadly horsed open slay hay! Santa's Slay is pure fun to watch. It does have a pretty good plot but the over the top kills and entertaining performance from the demon Santa (played by former professional wrestler Bill Goldberg) makes up for any inconsistencies. I've seen a lot of holiday themed horror movies but I do not remotely consider this entertaining movie to fall in to that. Just sit back and relax and enjoy the entertainment.
The back story is that Santa Claus was originally a demon. He became the giver of happiness to all the children of the world due to a lost bet he made with an angel. He gave up his angelic persona to be mortal in the process. Now the bet is accomplished and Santa is ready to slay you down literally. Aside from the Santa killing mayhem, the plot revolves around a young teenager Nicolas (Douglas Smith) and him finding out more about the real Christmas season through his seemingly crazed grandfather (Robert Culp). Tagging along for the ride is the girl Nicholas is falling for Mac (Emilie de Ravin). After they find out that after the 1005 AD that the bet is off in 2005, they set off to try to eliminate Santa (whom is revealed to be a virgin birth from Satan). There is an interesting twist regarding the Grandpa that I won't spoil in order to kill any form of plot with this movie.
The acting really is pretty good for a film that doesn't entirely take itself seriously. Bill Goldberg as crazy Santa strangely works even though hearing you'd assume it wouldn't. The gore and kills are phenomenal. Some of my favorite scenes is the opening scene with annoying actress Fran Drescher getting her hair literally seared off as her family is having a family dinner. Santa rolls in and annihilates the entire family. From pruning sheers through the hands and torching off Fran's hair, this movie dishes it out. You'd have to see it to believe it. Some kills I had never previously seen were done in this movie.
Santa's Slay has its fair share of comedy. From funny one liners to the poking fun at different religions, we have Santa going to a strip club and destroying the guards while naked women are running around screaming. One of the funniest parts is the local church in town giving the ones killed in that strip club a eulogy and calling out their rather "playful" names.
I give this holiday treat a 5 out of 5 just for the sheer fact that it is fun, comedic, gory and different from most horror holiday movies. It has a 5.2/10 on IMDB.
"Santa's Slay" (2005)
Directed By: David Steinman
Written By: David Steinman
Starring: Bill Goldberg, Douglas Smith, Emilie de Ravin, Robert Culp