'Solstice' Movie Review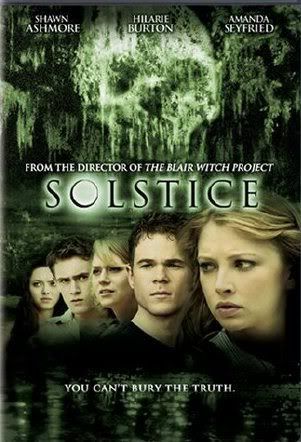 by Jamie Zaccharia, MoreHorror.com
Starring Elisabeth Harnois, Shawn Ashmore, Hilarie Burton, and Amanda Seyfried, Solstice is a movie brimming with young stars and chock full of suspense. It's about a group of friends spending their senior week after graduation in a summer houses in the bayou of Louisiana. Megan (whose parents own the place) is still grieving over her twin sister's suicide 6 months ago and when strange things start happening at the house, Megan thinks her sister is trying to use the power of the Solstice to contact her.
Since Solstice is a mystery movie, it relies on the story instead of boobs and blood. There is a mystery that is not easily detectable, and the clues keep you guessing until the very end. There's also a lack of a real bad guy for most of the movie that actually improves the film, rather than takes away from it. We believe in these characters, we want to be friends with them. We grieve with them and want them to figure out what's going on.
There wasn't a single bad performance in the whole movie. They even had a more realistic "token asshole white guy" character than other movies. He was more of the obnoxious but still good inside friend then the over-done jerk that leaves the audience wondering why they're even friends with him in the first place that's usually done in horror films.
The only thing I didn't like about this movie was the poorly done spirit you see every once in a while. It wasn't terribly realistic or scary, except when it popped out at you, which it did do enough to keep the sense of suspense through the whole movie, but not too much to make it overdone. Solstice is a movie that proves that the power of a good mystery doesn't need buckets of gore, rated-R sex scenes, or a death every 10 minutes. It uses the story, the suspense, and the talent of its young actors to keep the audience on the edge of their seats, and that it does. I highly recommend this movie to anyone who likes a good suspense film.