'Territories' Movie Review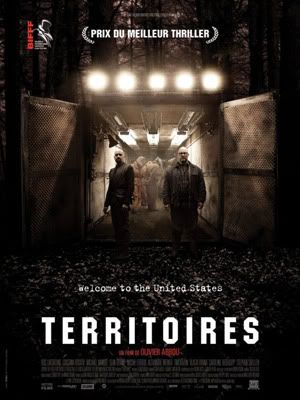 by Marcey Papandrea, MoreHorror.com
Right off the bat I will say that Territories is a challenging film, both in its message and execution. This is what I would call a political horror film, and it really does deliver with both things. I went into this film without any real prior knowledge. I had no expectations and I didn't know what to expect. This is one of those films that I think benefits from that, so I will keep this review as vague as possible on the plot points.
The beginning scene of Territories is intense and it will keep your heart pounding. It starts off with Dirge by Death In Vegas playing and we see a group of people driving in their car. There doesn't seem to be anything wrong with them, they look like a normal bunch of people. As this happens you begin to question whether there is more to them than meets the eye but this quickly changes as they get pulled over by what appear to be two Customs Officers. The group are travelling back into the US after going over the border to Canada for a wedding. The Customs Officers begin to question the people in the car, and the questions soon turn into a full blown interrogation and it soon becomes clear that doesn't isn't right.
As I said, I'll be vague on the plot and that basic run down happens within the first twenty minutes or so, to reveal more would be criminal. Territories really deals with the post 9/11 paranoia of society, racial stereotyping, the treatment of suspected terrorists and if torture is an acceptable means of gaining information. I am sure most people have their own thoughts and opinions on the subject matter, and whether you agree or disagree with what the film has to say it will certainly leave you with something to think about. The way certain events are portrayed here are so hard to watch and sit through. You feel like you shouldn't be watching it.
Performance wise, the actors here were fantastic, with each really giving 110% and feeling very real as characters. The best of the bunch for the car group was Michael Mando as Jalii Adel Kahlid, who receives most of the abusive from the Officers because of his apparent ethnicity. He takes so much and at times it isn't easy to watch but he made it believable and did a great job. The real scene stealers here are the Officers played by Sean Devine and Roc LaFortune, these two made for the perfect villain types. Two men who just can't be reasoned with, and will do whatever it takes to prove their crazy theories are correct. They are placed with a back-story but it is really left to the audience figuring it out with clues. It isn't difficult but you need to pay attention, this certainly benefits from a second watch.
I was highly impressed with co-writer and director Olivier Abbou's take on these subjects and the film he crafted over all. It is a solid watch and it really does remain something important and something that should be watched. He directed the piece with precision and hit all the right notes with the different scenes and kept that high intensity. The script co-written with Thibault Lang Willar is quite strong and sharp, and just a job well done. This is something that will force you to think, and it will stay with you after you have seen it.