'The Revenant' - Movie Review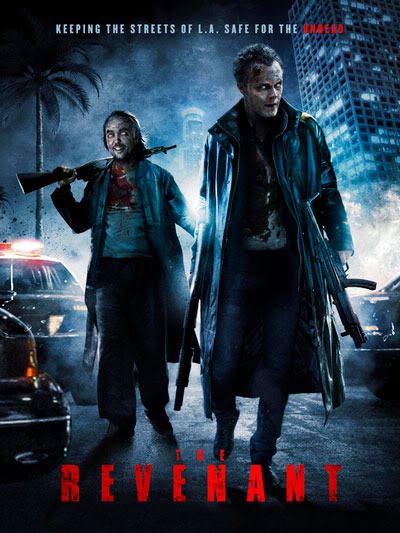 by Marcey Papandrea, MoreHorror.com
There is only one possible way I can start off this review – I LOVED THIS FILM! The Revenant is one of the most fun and also unique films I have had the pleasure of watching this year. I don't hide the fact I love my horror (obviously otherwise I wouldn't be writing for this amazing site), and I have a tendency to seek out different films. I also like to go in as blind as possible, I prefer to know as little as possible when I dive into a film. This really is the way to go with this film -- leave all expectations behind and just sit back and enjoy the ride.
I'll try not to spoil too much here, so I will give a vague description of the plot. A soldier Bart, who gets killed in Iraq comes back from the grave (literally), finds his best friend Joey and returns to being dead. But come sundown he awakens again, and must drink blood to stop from decomposing. Deciding that he is a revenant, Bart and Joey spend their nights as vigilantes and trying to hide Bart's strange condition. That, folks, is all you will get from me on the plot, and trust me it is better that way. That is only just scratching the surface of what happens in this film. It is a crazy and wild ride.
The film has so much going on, and it is clear even early on while watching it that a lot of time and dedication went into the script and also into the filming. Scenes fit together perfectly, no matter how outrageous they are; they fit. Perhaps this due is in part to writer/director D. Kerry Prior basing certain events in the film on real life experiences he had. Not content with something run of the mill, the film (and story) really look at the situations as if they were real and how could this or would this happen if it were real. It is such a smart approach and it really pays off, it never feels like this was thrown together at that last minute. The effort and affection for this really rings through.
The actors here are a great bunch, and they fit together so well. David Anders (Best known for his TV work on ALIAS, Heroes and The Vampire Diaries) embodies every aspect of Bart; he truly does become this character. Braving such harsh make-up he showcases his talents through that and through all the different scenario's and situations. The man is a champ, and I really hope he does score so more film work. His best friend Joey played by Chris Wylde is hilarious, he really makes for the perfect sidekick, and the pair made such a great fit. It isn't an easy task to cast two people who have strong chemistry as friends and here it was so natural. These two are the stars through and through, but lets not forget the beautiful Louise Griffiths as Bart's girlfriend, her role wasn't an easy one but she pulls it off. Despite the difficulties for me she was likable and I bought the love that Bart had for her. Props really do need to go out for the entire cast, they were great.
The directorial work by Prior is top notch; the passion was there and did so much on a small budget. The characters have time to get developed, in turn the story develops and then in turn the audience actually cares and there is such a strong investment in what happens. The humour was spot on, it is a dark kind of humour and I loved it. Humour and horror are not an easy combo, as with something like Re-Animator it fits together in the perfect blend and it is very entertaining. The film really does not look or feel like it was a low budget affair, the money was well spent. Prior and crew did an exceptional job, every aspect works and this is a film you really need to seek out and watch. I can't recommend this enough, and The Revenant is something that will fall into my regular re-watches.